Ground Cardamom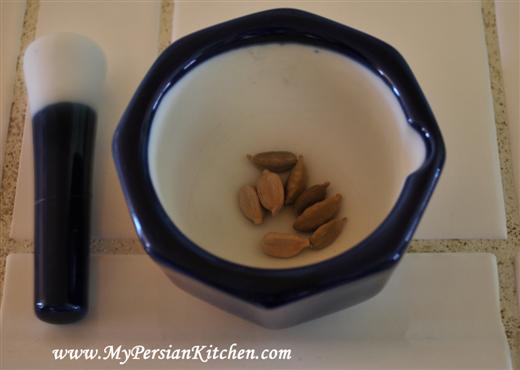 Remember the glorious Brie en Croûte With Pistachios & Almonds that I posted a few weeks ago? You may remember that in that post I mentioned that I made it when we went to Kumar's house back in late January. When I packed all the ingredients I neglected to pack one important spice: Ground Cardamom. Thankfully, I was at an Indian household where cardamom is standard.  Phew!
Low and behold ground cardamom is nowhere to be found in Kumar's pantry. Now, I should have known this little piece of information, since I helped him unpack his boxes and organize his kitchen when he recently moved into his new house. But I didn't!
Kumar came to the rescue and immediately offered to help out by grinding some cardamom pods for me. He took out his little mortar and went to work.
At this point of this post I need to come clean and make a confession. The good Persian girl that I am, I always have a jar of ground cardamom on hand, but I also always have cardamom pods on hand because I love to brew my tea with cardamom pods. Needless to say, I have never had to use cardamom pods to make ground cardamom. <deep breath> I assumed that everything got crushed together. So wrong of me to assume!!!!!
So this post is for all the folks like me who didn't know that the cardamom husk needs to be removed…I do claim to know a lot, but I sure don't claim to know everything!!!!
First crush the cardamom pods enough to break them up so that the seeds are exposed.
Removed the husks.
Make sure that all that is left are the seeds.
Then proceed to grind the seeds with the pestle.
Thank you Kumar for teaching me something I didn't know!!!!