Well here we are, the second turkey recipe featured here on MPK! I hope that you will enjoy this recipe as much as we did! I have several recipes within this post starting from the broth and finishing with gravy. Yes! Indeed, on the menu we have: Spiced Turkey Giblets Broth, Orange & Cinnamon Glaze, Orange & Almond Rice Stuffing, the turkey itself, and last but not least Orange & Cinnamon Gravy.
A few words before we start: make sure to brine your Turkey in the Orange & Cinnamon Brine that I posted last week, I promise that it makes a huge difference! Second, I highly recommend that you make the broth and glaze the day before Thanksgiving to save some time  the morning of Turkey Day!
Spiced Turkey Giblets Broth
Turkey giblets
2 carrots
2 stalks celery
1 medium onion
2 cloves garlic
1 cinnamon stick
1 tsp cloves
4 cups water
Orange & Cinnamon Glaze
1/2 cup onion, small diced
2 cups fresh orange juice
1 tbsp orange zest
2 cups Spiced Turkey Giblets Broth
3 tbsp brown sugar
2 tsp cinnamon
3 tbsp butter
salt & pepper
oil
Orange & Almond Rice Stuffing
2 cups parboiled basmati rice
1/2 cup slivered orange peel
1/3 cup almonds
1/3 cup onion
1 tsp advieh
2 tsp cinnamon
salt & pepper
oil
Turkey with Orange & Cinnamon Glaze
1 turkey
3 cups Orange & Cinnamon Glaze
2 tbsp butter
salt & pepper
Orange and Almond Rice Stuffing
Orange & Cinnamon Gravy
2 tbsp butter
2 tbsp flour
1 cup Orange & Cinnamon Glaze
1 cup Spiced Turkey Giblets Broth
salt & pepper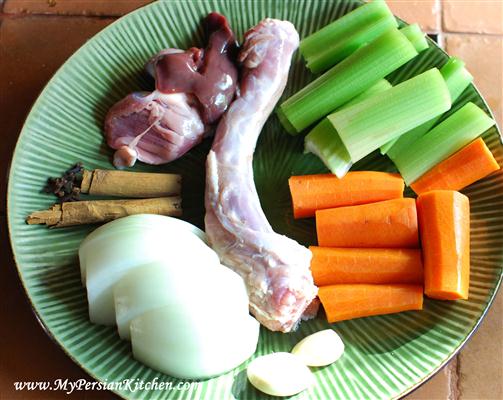 Here are all the broth ingredients cut up and ready to be placed in a pot. As I mentioned last year, I love using all components of my turkey.
Place all broth ingredients in a pot and add water. Simmer covered on low for about 3 hours.
In the mean time prepare Orange & Almond Rice stuffing by parboiling rice according to Cooking Rice for Polow post.
Sliver orange peel and remove bitterness according to How to Sliver and Remove Bitterness from Orange Peel post.
Toast slivered almonds until their aroma rises.
Saute onion in some oil until just golden. Once ready add advieh and cinnamon. Allow for the spices to cook for a couple of minutes with the onion, then add orange peel, almonds, and season with salt and pepper. Mix well.
Then add rice and mix well. Set rice stuffing aside until needed.
To make glaze, saute onion in some oil until translucent. Then add cinnamon and give it a good stir. Add brown sugar, orange juice and zest. Allow to reduce by half, then add broth and allow to further reduce.
Strain the glaze and discard onions.
Pour glaze back in the sauce pan then season with salt and pepper. Add butter and cover until ready to use reserving 1 cup of it for gravy.
Remove Turkey from Orange and Cinnamon Brine, rinse well and pat dry.
Season turkey cavity with salt and pepper. Place rice stuffing in the turkey's cavity. If you choose not to stuff your bird with stuffing, then simply add a quartered onion, a couple of garlic cloves, a few slices of orange, and a cinnamon stick.
Truss turkey and rub generously with butter all over.
Place turkey on a roasting rack and season with salt and pepper all over. Roast at 400° for 1/2 hour.
Remove turkey from oven and generously brush glaze all over the bird.  Lower temperature to 350° and continue cooking  until turkey reaches an internal temperature of 160°.  During cooking time brush with glaze every 1/2 or so.  If the breast begins to burn then place a foil over the bird.
To make gravy melt butter then add flour.
Whisk butter and flour so that it doesn't burn. Â Cook together until flour turns blond.
Then add reserved glaze along with broth, season with salt and pepper and bring to a simmer. Whisk until gravy reaches your preferred consistency.
Once ready to serve strain gravy.
So this gravy is not for everyone. It's definitely different than the normal gravy that everyone is used to. I liked it a lot as for me it was a welcome change.
Dare I say, we are done! What I loved about this turkey was the fact that it was moist and flavorful. The skin was crisp and delicious thanks to the glaze. This bird was not boring taste wise!!