Once a week I teach three classes in a row starting at 8am and going until 10pm. After the first class I have to commute to a different side of town which leaves me with about half hour to grab a bit to eat. Sometimes I get bored of my usual homemade Turkey Breast sandwich, so I make a quick stop to grab a bite. Healthy options are a bit limited around the area that I work, as it's surrounded by fast food restaurants. Thankfully, there is an El Pollo Loco, which out of all the fast food choices it's the healthiest of all. I usually settle in with a chicken breast and wing combo with a side of beans and salad. But one day, as I walked in, I was greeted with a huge poster which featured the picture of a very appetizing Watermelon and Pistachio Salad. This Persian girl was all over these flavors!!!
Of course I had try it immediately! About three weeks later when I went back, as my luck would have it, the salad had been pulled from the menu. Apparently, it was a special and it did not sell enough to keep it on the menu. I was very disappointed. But the disappointment didn't last very long because I decided that I was going to make my own version of it.
This salad is very delicious and refreshing in the summer time, but it is also perfect for this time of the year. This salad's flavors go very well with the Shabeh Yalda's food theme. Watermelons are still available this time of the year and are usually consumed on the evening of Winter Solstice.
Ingredients
8 cups lettuce of your choice
4 cups watermelon, small diced
1/3 cup pistachios
2 Persian cucumbers
4 small chicken breasts
1 lemon
1/4 cup olive oil
Salt & pepper
Season chicken breast with salt and pepper. Grill chicken until all the way cooked. Once done set aside and allow to cool to room room temperature.
Toast pistachios for a few minutes. Then allow to cool.
Cut watermelon in 1/2 inch cubes.

Cut cucumbers in half, then slice into half moons.
Cut lettuce in bite size pieces. You can use any type of lettuce you prefer. I used Romain lettuce.
Next, make the dressing. Add lemon juice to a bowl then slowly whisk in olive oil. Season with salt and pepper.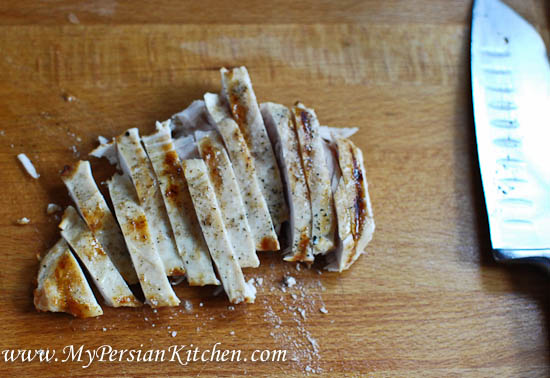 Slice chicken pieces, then begin building the salad.
First place the lettuce, watermelon, and cucumbers in a bowl. Add the dressing reserving 2 to 3 tablespoons of it. Then add chicken pieces on top followed by the pistachios. Then evenly distribute the remaining dressing on top of the chicken.
This salad can also be served without the chicken as a regular side salad. I hope you will enjoy this salad as much as we did!!!