A couple of years ago I posted a recipe for Asheh Kadoo Tambal, Persian Pumpkin Soup. When I came across the recipe a couple years ago, I brought it up to my mom to see if she had every made it or had it before. She hadn't. In fact, after I shared with her that I had made the recipe, she was surprised to hear that said Ash was not made with some of the Persian soup staples: meatballs and herbs. Given my love for pumpkins I knew that eventually I had to make this soup with meatballs and herbs.
The addition of the herbs and meatballs certainly add a lot of flavor to this soup. Â I love both versions and they are both equally delish! This is definitely a good addition to your Thanksgiving feast or the perfect hearty soup on a cold night.
Ingredients (serves 6-8)
2 medium onions
6 garlic cloves
1 lb ground beef
1 tsp turmeric
1 tsp cinnamon
1/2 cup split peas
1/2 cup rice
4 cups beef broth
4 lb diced pumpkin
2 cups parsley, packed
3 cups cilantro, packed
2 cups mint, packed
2 cups chives, diced
salt & pepper
olive oil
Naanaah Daagh
1/4 cup olive oil
1 tsp dried mint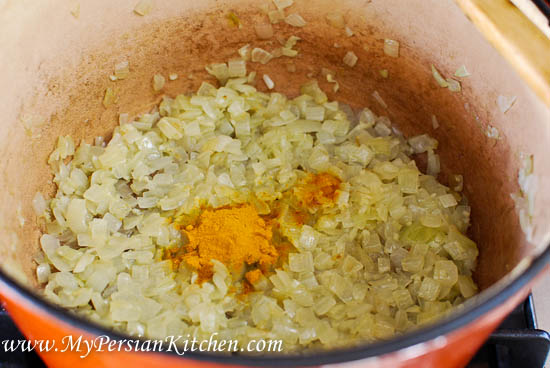 Small dice one of the onions and sauté in olive oil until translucent. Add 5 minced garlic cloves and 3/4 teaspoon of turmeric.
Sauté for 2 to 3 minutes then add washed rice and split peas. Add broth plus 2 cups of water. Cover and bring to a simmer. Cook for 30 minutes on medium low.
Grate the second onion and mix with remaining one minced garlic. Add 1/4 teaspoon turmeric and cinnamon. Season with salt and pepper and mix well. Add ground beef and massage until the ingredients are well incorporated and the meat becomes elastic.
Make meatballs the size of hazelnuts.
Season broth with salt and pepper. Â Gently add meatballs to the simmering pot. Continue cooking covered for 30 minutes longer.
 Add rough chopped herbs. Mix well and continue cooking for 30 minutes longer.
Add pumpkin and simmer on low for 1 hour longer.
Finish soup by warming olive oil until warm. Turn off flame and add dried mint. Allow to infuse for 10 to 15 minutes. Add one teaspoon of the infused mint to each bowl of soup.