Asheh Kadoo Tanbal ~ Persian Pumpkin Soup
I am amused by how pumpkin is referred to in Farsi. How can you keep a straight face when you say Kadoo Tanbal??!! Kadoo in farsi means zucchini or squash. Tanbal in Farsi means lazy. So pumpkin in Farsi is Lazy Squash! I do wonder where and why it got this name. This recipe is very timely this time of the year since Pumpkins are abound. For those who love pumpkin soup, I have no doubts that you will love this version as it's different from any other recipe out there.
The inspiration for this recipe comes from Mrs. Montazami's cookbook. The original recipe calls for butternut squash. It think it's just as delicious with pumpkin. I made a few changes to the recipe  which has made it over the top good. I hope that you will enjoy this recipe as much as we have. This is a very comforting hearty soup on a cold day, and certainly a different twist on the regular pureed pumpkin soup.
Ingredients
1 medium onion
6 cloves garlic
1 tsp turmeric
1 cup lentils
1/2 cup rice
4 cups vegetable broth
4lb diced pumpkin
2-4 tbsp lemon juice
2 tbsp olive oil
salt & pepper
Naanaah Daagh
1/4 cup olive oil
1 tsp dried mint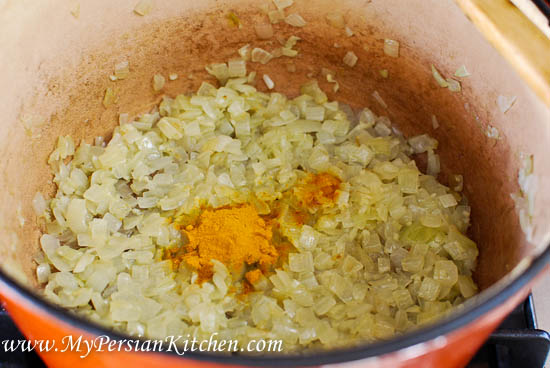 Small dice onion and mince garlic. Sauté in olive oil until just past translucent. Add turmeric and mix well.
Add rinsed lentils and rice. Give it a stir.
Add 4 cups of vegetable broth along with 8 cups of water. Season with salt and a touch of pepper. Cover and cook on medium high for 30 minutes.
Cut pumpkin into sections, then remove seeds and strings.
Remove pumpkin skin then cut into bite size pieces. I find that cutting off the skin with a knife on small pieces works best.
Add diced pumpkin along with salt. Continue cooking on medium low for 1 hour and half to 2 hours. Make sure to stir the soup often during cooking time so that the bottom does not stick. If the the soup is too watery then cook partially covered. Persian Ash should always be very hearty and not too watery.
Depending on your preference as far as sourness is concerned add anywhere from 2 to 4 tablespoons of lemon juice. Adjust seasoning as needed. Continue cooking for 10 minutes longer.
This soup is delicious served with Na-naa Daagh which is hot olive oil infused with dried mint.
Simply warm olive oil until nice and hot. Then turn off flame and add dried mint. Allow to infuse for 10 to 15 minutes.
Serve soup in a Pumpkin Bowl, soup bowl, or individual bowls. Add Na-Naa Dagh on top of the soup.
Just like the Pomegranate Soup that I posted last week, this Ash is Vegetarian, Vegan, and Gluten Free!