Sugar Cookies

As I mentioned in my last post, December 22nd is my mom's birthday. I thought I would get a little artistic for her birthday post!
Here is my mom in her fabulous youth years. My mom loves Poinsettias so this is where the inspiration for some of the cookies came from. Not that she is here to eat them because frankly we don't live in the same city, state, country, or continent for that matter. But I thought I would do something a little fun for her to look at…
Sugar cookies have nothing to do with Persian cuisine…being that it is the holiday season I have been baking more than usual. This year for the first time I tried making Sugar Cookies. I picked the recipe from Good Housekeeping magazine because the cookies looked very appetizing and it said that the recipe would make about 152 cookies.
While baking I tried to get creative and use a cookie press. I had all these great things in mind and I could not wait for my cookies to come out just like I imagined them in my head. Well, I was up for some serious disappointment. The cookie press and the dough didn't get along,  so I pulled out my regular cookie cutters and went to work.
So I have to be honest with you, if you want just simple sugar cookies, these are great. Don't get me wrong they are good, even yummier with the sugar on top, but frankly, next time I make them, I think I will add something to them to give them a little kick! Nevertheless, they were pretty easy to make.
Classing Sugar Cookies
Adapted from Good Housekeeping, December 2009
6 cups flour
1 tsp baking powder
1 tsp salt
2 cups butter, softened
3 cups sugar
4 large eggs
2 tsp Vanilla extract
Green & Red Sparkles
In a large bowl place flour, baking powder, and salt.
Whisk the dry ingredients together.
Beat butter and sugar…
until nicely blended.
Every so often scrape down the sides.
The butter and sugar will get nice and airy.
Add eggs and vanilla extract and blend.
Slowly add dry ingredients and make sure that they are all nicely blended together.
Divide the dough and wrap in plastic wrap and refrigerate over night.  I tried working with the dough after it had been refrigerated for a few hours, but I found that it was much more manageable when it rested over night as the recipe said.
Flour your board and divide the dough into two pieces.
Roll the dough with a rolling pin to a 1/4in. thickness.  The colder the dough, the easier it is to manage.
Use cookie cutters to cut out shapes.  Hold on to the trimmings and flatten them out to get as many cookies as possible from your dough. Place cookies about 1in. apart on parchment paper in a cookie sheet.
Decorate the top of your cookies to your liking. I used one of the cookie shapes from the cookie press to make flowers…
You can simply sprinkle colored sugar on top of your cookies as well.  Bake at 350º for about 10-12 minutes depending on your over.
After cookies are done place them on a wire  rack to cool.
Not bad for a first try…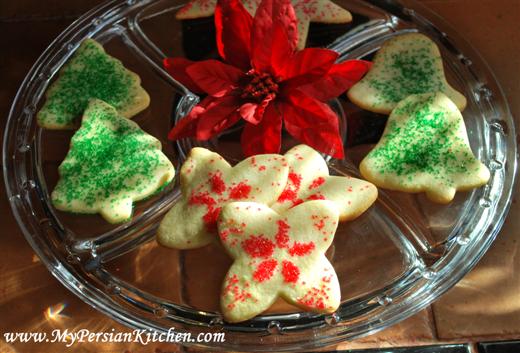 And that's all folks!
Buon compleanno Moooommmyyy!!!