A few years back I posted my very first recipe for Tass Kabob. In the original post I mentioned that there are different ways to make this delicious stew. Today I am posting a second version, one where both prunes and quince are used. While this is not the version of Tass Kabob that I grew up eating, it has certainly grown on me. I have to say that I have fallen in love with this version and the addition of prunes and quince really take this dish to the next level.
Another aspect of this dish that I have grown to like a lot is that it's an easy one pot meal. Unlike most Persian recipes all the ingredients are loaded into a pot and there is nothing else that needs to be done for the next couple of hours. There is no frying, there is no stirring, or peeking! I highly recommend using a Dutch Oven for this recipe or a heavy bottom pot.
Ingredients
1 lb stewing meat (beef or lamb)
2 medium large onions
4 garlic cloves
1 lb potatoes
1 lb quince
4 medium carrots
3 large tomatoes
10 prunes, seeds removed
1 tsp turmeric
2 tsp limoo amani, ground or powdered (dried limes)
1 tsp cinnamon
1 tbsp tomato paste
3 tbsp olive oil
salt & pepper
First slice all of the vegetables, making sure that they are give or take even. Remove skin from potatoes and carrots before cutting. Remove skin and seeds from quince. Cut prunes in half. Finally, mince garlic.
Cut meat into bite size pieces. Season with salt and pepper on the cutting board.
Mix together turmeric, cinnamon, and ground limoo amani.
Pour 2 tablespoons of olive oil in a Dutch Oven, then warm on stove for about 1 minute. Turn flame off then tilt the pot back and forth so that the bottom of the pot is evenly coated by the olive oil. Begin layering by first adding onions, minced garlic, and meat. Add about 1/2 teaspoon of spice mixture. Then add 1/2 of the prunes.
The next layers will be potatoes and quince. Make sure to season with salt as you go. Then top with more of the spice mix.
Continue layering by adding carrots and the rest of the prunes. Make sure to continue seasoning each layer with salt and the spice mix.
Finish with the tomatoes. Once again season tomatoes with salt and the spice mix.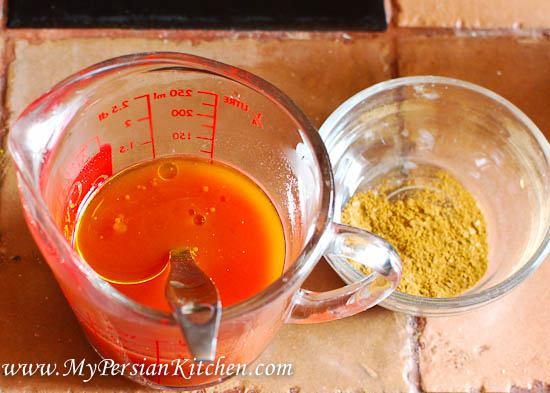 Mix 1 tablespoon of tomato paste with 1/2 cup of hot water. Mix well then add the remaining spice mix.
Pour the tomato paste and spice mixture evenly over the tomatoes. Cover and cook on low for about 2 to 2 1/2 hours.
During the cooking process do not disturb the stew. Just let it cook. Within an hour your kitchen will smell heavenly. The onions will be caramelized and cooked in the meat broth which will eventually turn into a delicious gravy like thick sauce. The quince slices will add a touch of sweetness along with the prunes. What I like about this stew is that even though prunes and quince are sweet, the dish in itself is not overwhelmingly sweet. This stew can be served over Steamed Persian Rice or Cumin Rice.