Persian rice with cumin seeds might come across a bit unusual to some. I was introduced to this polow, Persian mixed rice, during my teenage years. I promise you that if you like the taste of cumin, you'll love it! It is ridiculously easy and it has been a personal favorite for many years. I really love the taste of cumin and often use it my cooking. I absolutely love to pair Zeereh Polow with Tass Kabob. I think they complement each other beautifully.
I hope that you will enjoy this rice as much as I do!
Ingredients (serves 6)
3 cups rice
3 tbsp cumin seeds
3 tbsp canola oil
salt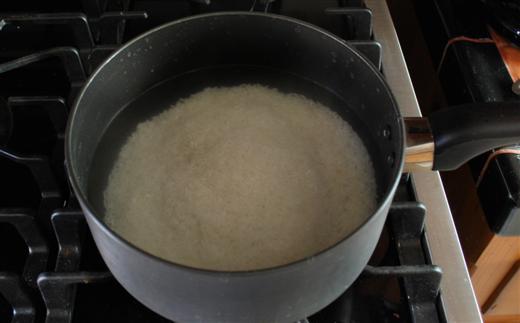 Parboil rice according to the Cooking Rice for Polow post.
Toast cumin seeds for a few minutes until the aroma rises. Remove from flame and set aside.
Once rice is ready and strained, place in a mixing bowl. Add cumin seeds to the bowl.
Gently mix well. I have found that for this recipe it is best to simply mix the rice with cumin in a bowl, for even distribution, instead of mixing it the traditional way, which is in the pot itself.
Add canola oil and 2 to 3 tablespoons of water to coat the bottom of a non-stick pot. Add rice on top and with the back of a spatula create 5 holes in the rice. Cook covered on high for 10 minutes.
Mix 2 tablespoons of water with 1 tablespoon of canola oil. Pour mixture over the rice. Wrap lid in a towel, cover, and cook on low for 1 hour.
Zeereh Polow can be served with Tass Kabob, Roasted Cornish Hens with Saffron, and Pan Fried Chicken With Persian Spices.