Dolmeh: Bademjan ~ Stuffed Eggplant
Raise your hands if you like stuffed eggplants!
Dolemeh-ye Bademjan, stuffed eggplants, are simply delicious!
Some people refer to them as  eggplant while others call them aubergine or melongene. I personally love them and for today's recipe  I could not resist buying the small kind.
Ingredients
8 small eggplants
1/4 lb ground meat
1/4 cup rice
1/4 cup onion, diced
1Â  clove garlic, minced
1 cup parsley, rough chopped
1/3 cup scallions, rough chopped
2 tbsp tarragon, rough chopped
1 tbsp advieh
2 tbsp tomato paste
1-2 tbsp lemon juice
salt & pepper
Cook rice with 1 cup of water and a pinch of salt for about 20 minutes.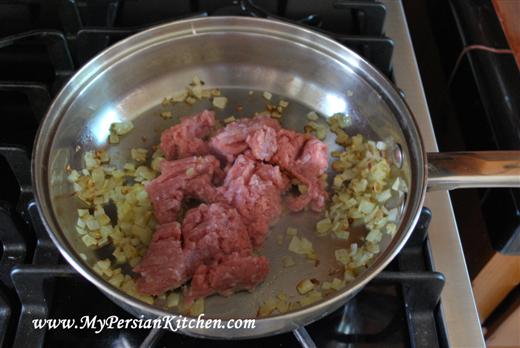 Sauté onion and garlic until translucent. Add meat and cook through.
Add 1 tbsp of tomato paste and 1/4 cup water.  Season with salt and pepper. Let cook until all liquid is absorbed.
Add rice to the meat and mix well.
In the mean time remove the pulp from the inside of each eggplant. Season the inside with salt.
Add herbs to ground meat and rice.  Add advieh and check to see if  more seasoning is needed.
Stuff eggplants with ground, rice, and herbs.  Place the lid back on the top of eggplant.
Arrange eggplants in a pan where they can stay vertical. In the same pan that the ground meat was cooked place 1/2 cup water, 1 tbsp of tomato paste, and 1 to 2 tbsp of lemon juice.  Season with salt, bring to boil and let reduce for a couple of minutes.
Pour sauce over the eggplants, cover, and cook on medium for about half hour or until eggplants are cooked.