Rice Stuffing

Persian Thanksgiving Side Dishes: Recipe 2
I present to you the second side dish for this year's Thanksgiving.  The inspiration for this stuffing came from a couple of different places. A few years back an Armenian friend told me that her mom used rice in her stuffing. That grabbed my attention immediately as it sounded different than the stuffing that people usually use for Thanksgiving. The other inspiration came from a recipe that I came across in 2004 on the Food Network website.
I ended up experimenting a bit, subtracted a few ingredients and adding basmati rice…the result is what you see below. I have to be honest with you, it taste a million times better when it is stuffed in the turkey. There is  something magical that happens when the turkey juices find their way into the stuffing.  Nevertheless, it is also good if you just bake it on its own. This is a mild tasting stuffing, but I like it because it is a nice combination of flavors. I think that he pomegranate paste and goat cheese come together. I also like the fact that it can be easily turned into a vegetarian dish by using vegetable broth.
1/2 cup basmati rice
1/4 cup wild rice
1 onion
3-4 cloves of garlic
2 carrots
2 celery stalks
3/4Â  cup chicken broth (vegetarians please use veggie broth)
1 tbsp fine chopped thyme
2-3 tbsp fine chopped parsley
5 tbsp pomegranate paste
6 oz goat cheese
Cook wild rice according to package instructions.  I boiled 1 1/2 cups of water. Added salt, and the rice, and cooked on medium for 45 minutes. For Basmati rice cook with with 1 cup of water for about 15 minutes. Make sure to add salt.  Once both rices are cooked drain water.
These are the flavor ingredients.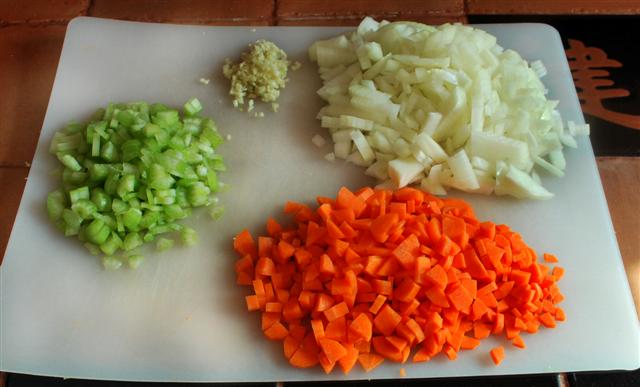 Small dice garlic, onion, carrots, and celery.
Saute in olive oil until onion turns translucent.  Add salt and pepper and stock, cover and cook for 10 minutes longer.
If your celery has leave, by all means, fine chop and add to the pan.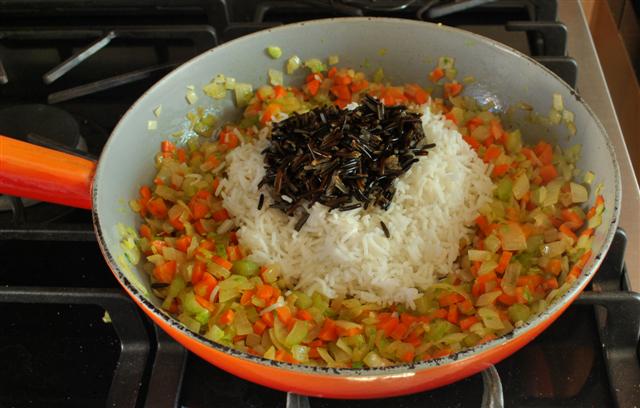 Add the two different types of rice and mix well.
Fine chop your herbs.
Place ingredients in a bowl.  Add pomegranate paste and mix well.
Add goat cheese and herbs.  Mix until all is well incorporated. If the mixture is too dry warm up more broth add to it. The goat cheese should melt easily since all ingredients are hot. Check seasoning and if necessary add more salt.
At this point you can load the stuffing in the bird or if you want to serve it on the side follow the steps below.
Spay an oven safe dish with cooking spray.
Load stuffing in the dish.  Add pieces of goat cheese on top.
Bake at 350° for 30 minutes.   The top portion should be a bit on the dry side, while the inside should be nice and moist.