Tahcheen is a delicious rice that can be either baked on made on the stove.  I am sure you will agree with me that Tacheen is such a pretty sight to look at because of it's brightness in color, all thanks to amount of saffron that is used in it.
This is a simple dish to make, for best results I highly recommend you marinade the cooked chicken in yogurt over night.
Ingredients
2 chicken breasts
1 medium onion
2 cloves garlic
2 cups yogurt
2 egg yolks
4 tbsp brewed saffron
3 cups rice
2 tbsp butter
canola oil
salt & pepper
Cut onion in large pieces and crush garlic cloves.  Place onion and garlic in a pan. Season chicken breasts with salt and pepper and place on top of onion and garlic. Add 1 cup of water, cover and cook for 20 minutes or until chicken is cooked through.
In the mean time mix yogurt, egg yolks and saffron together. Season with salt and pepper.
Shred chicken in chunks with two forks. The pieces should not be too big or too small.
Add chicken to yogurt mix. Cover and refrigerate over night.
Parboil rice according to directions in Cooking Rice For Polow post.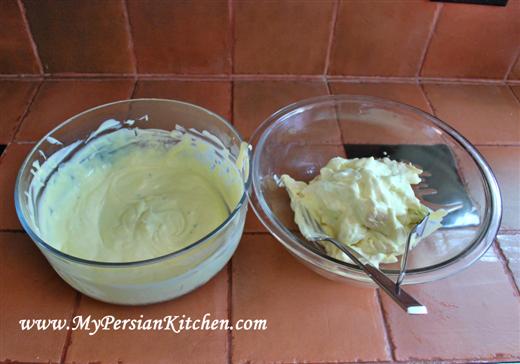 Remove chicken from marinade.
Add rice to the remainder of the yogurt and mix well.  Season with more salt if needed.
Pour 2-3 tablespoons of oil in the bottom of a pirex dish.  Spread the oil all over including the walls of the dish.
Place half of the rice in the dish and make sure that it is all even.
Arrange the chicken on top in a single layer.
Add remainder of the rice on top and flatten the top slightly pressing down with a spatula.
Melt the butter and pour over the rice.
Cover the dish with foil and bake  at 350° for 2 1/2 hours.