I have a girl friend who I met through an Iranian charity organization that I belong to. Her name is Homeyra. She is the happiest person on earth. She is always in a good mood, smiling, and spreading her happiness to those around her. Her joviality is simply infectious, I swear, she walks into a room and completely elevates the mood of those around her.  She is very likable and personable,  Persian adjective that best defines her is khodemooni.
A couple of months ago we were sitting next to each other at a fundraiser event and had the opportunity to chat and giggle together while she greeted the attendees and took their tickets while I sold raffle tickets. Low and behold she is from Shiraz and you wouldn't believe the excitement when I wooed her with my fine Shirazi dialect skills! In fact she was so impressed with me that now she wants to be my best friend! NOT! 😉 I only know a couple of things and the first thing that comes to mind is you say "haa" instead of "yes." I have no fine Shirazi skills, none! I only like sour food!
Moving right along, during my fun conversation with Homeyra she offered to give me some Shirazi recipes and I nearly fell off my chair from the excitement. So I called her a couple of nights ago and she gave me two recipes.  I nearly died when she actually told me how much of each ingredient should be used as opposed to how I am usually given recipes. OH. MY. GOD. I. LOVE. HER!
The first one is the ever so famous Salad Shirazi. This is a delicious and healthy salad that is also easy to make.
Now, allow me to be a food snob for just a few seconds. I have seen people get wild with Salad Shiazi and given that I have had Salad Shirazi all my life made by those from Shiraz, I can say with my head up high in the sky that no other herb is used in this salad other than mint. Amen!
With this said, I present to you Homeyra Khanoom's authentic Salad Shirazi!
Ingredients
5 Persian cucumbers (or 2 English cucumbers, the idea is to use seedless cucumbers)
4 round tomatoes
1 medium red onion
1/2 cup fresh lime juice
1 tbsp dry mint
1 tbsp oil (optional)
salt & pepper
These three veggies are all you need for this salad! Here is the thing though, you have to small dice ALL of them and they have to be, give or take, the same size. Think of it as a Persian Pico de Gallo! Now let's get choppin'!
Small dice cucumbers. Depending on the thickness of the cucumbers they can either be divided into 6 or 8 slices.
Dice onion…I didn't use all of my onion as it was too much. You can see in the next picture the piece that I left out. You don't want the onion to overpower the rest of the ingredients.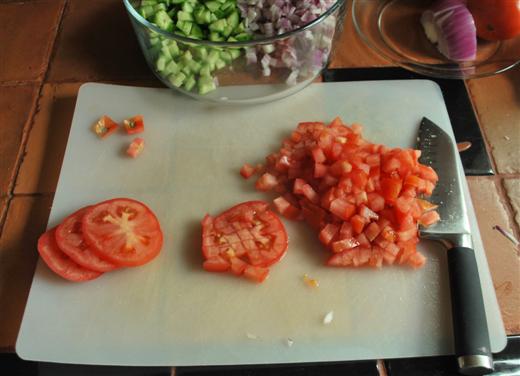 Do the same with the tomatoes. I would suggest doing the tomatoes last so that you don't have to whip your cutting board dry after chopping them.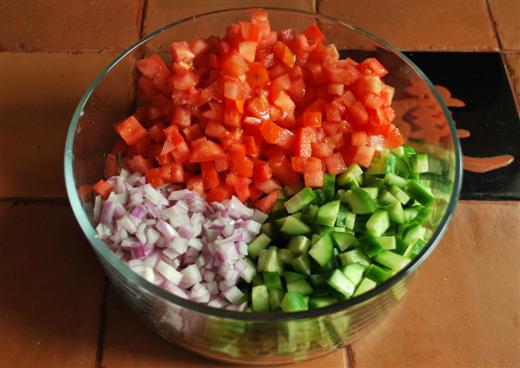 And Voila! Here they are all nice and chopped up!  Season with salt, pepper and add dried mint.
Mix well, cover and place in the fridge for 20 minutes. Make sure to taste the salad to make sure that there is enough salt.s
In the mean time juice fresh lime.  Homeyra says that oil is optional for the dressing.
If you would like to add oil, then add 1 tablespoon of extra virgin olive oil.
Pour lime juice and olive oil over the salad. Mix well and refrigerate for at least one hour before serving.
Salad Shirazi can be served with any Persian meal. We had ours with Grilled Chicken Kabob. YUM!
What I learned from the way Homeyra makes her Salad Shirazi is that she lets it rest. She says that the more you let it sit the better it is. So if you are planning on having Salad Shirazi for dinner, make it in the afternoon. I have to say it definitely makes a huge difference. Also, you can add more lime juice and/or mint if you wish depending on your taste buds!